1 of 36 desirable "Plexiglass" made
Only "plexiglass" model delivered in Pino Verde
Fabulous condition and fully documented continuous history with only 3 owners from new

First registered in the UK in December 1970 to committed Tifosi Mrs Nancy Hanson, chassis number 13921, was ordered in Verde Pino Matallizato with Luzan beige leather with beige carpets, a factory fitted Voxon stereo (with electric aerial), two head rests, and fill Britax seat harnesses from Maranello Concessionaires.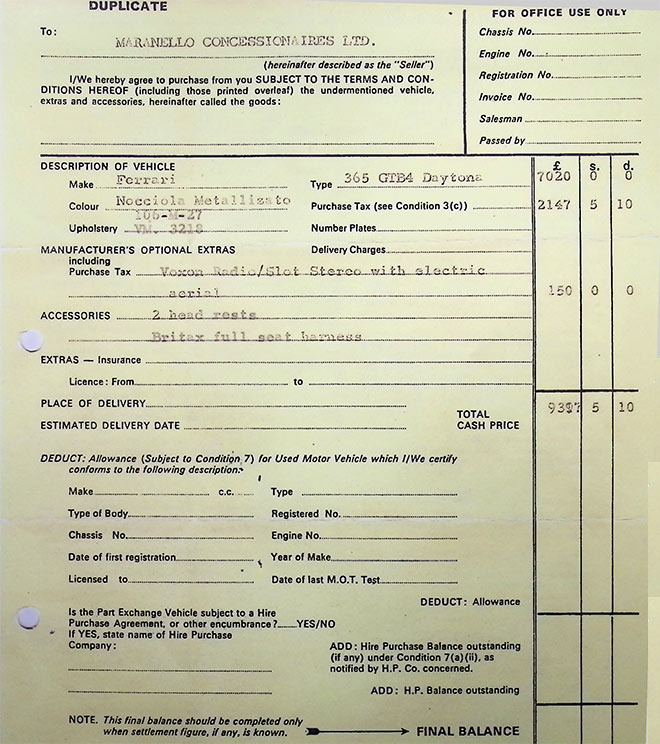 The colour, though not Mrs Hanson's original choice (which was not available), is a special one, as it hadn't been applied to a 365 GTB/4 before or since making it a true one off car. Mrs Hanson's luck with her spec didn't end there, as she put her order through shortly before the car's headlight construction changed from the rare Plexiglass set up to pop ups - only increasing its rarity and desirability.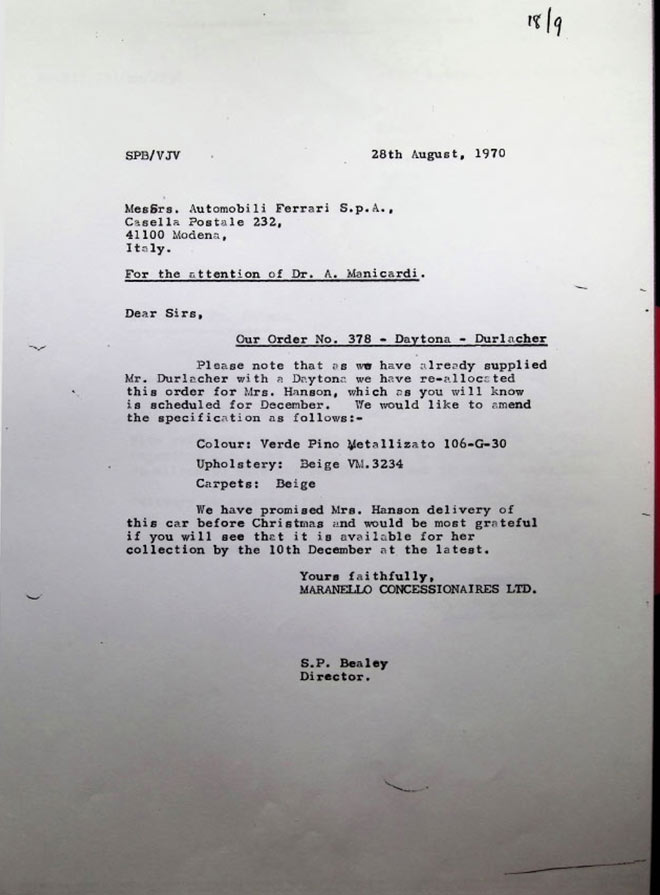 Once the car had been completed in December 1970, Mrs Hanson dispatched her sons, John and Paul, to Maranello to collect the car and drive it home the long (and fun) way, which they thankfully documented. When it completed its initial journey, Maranello Concessionaires collected the car for a road test and check before final handover. It was declared to be 'the best in the country.' Quite the result.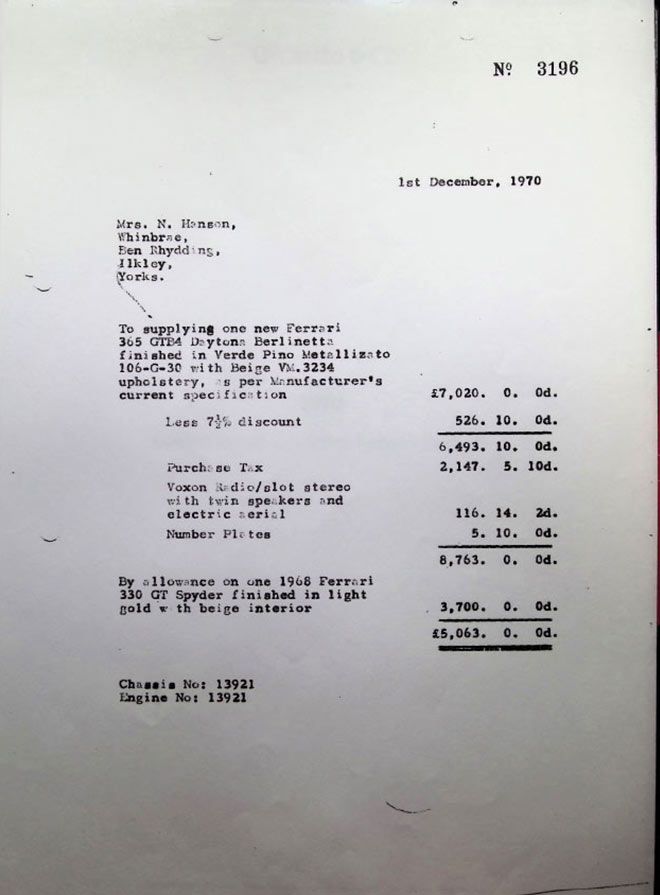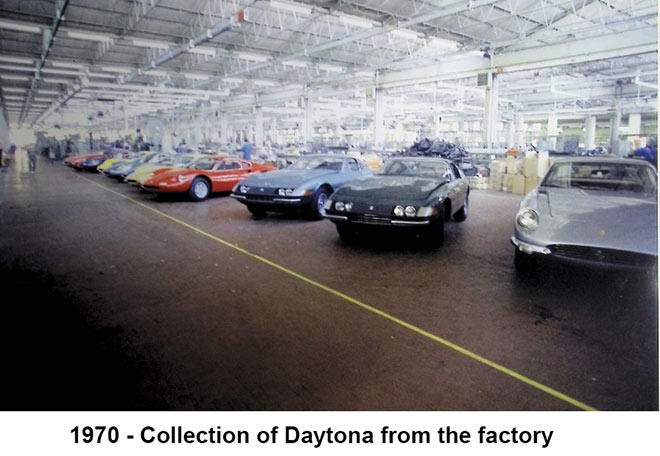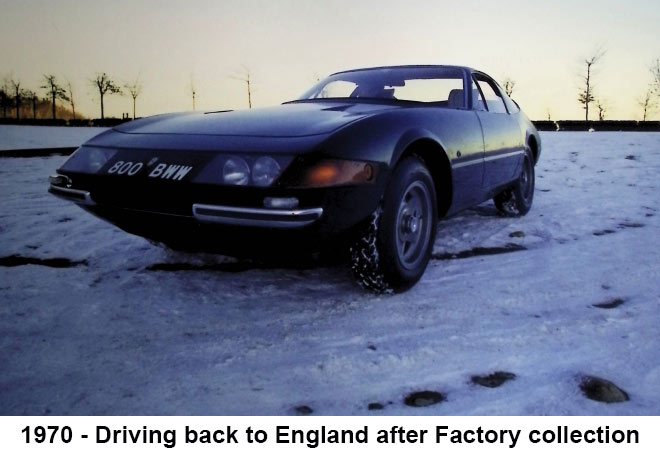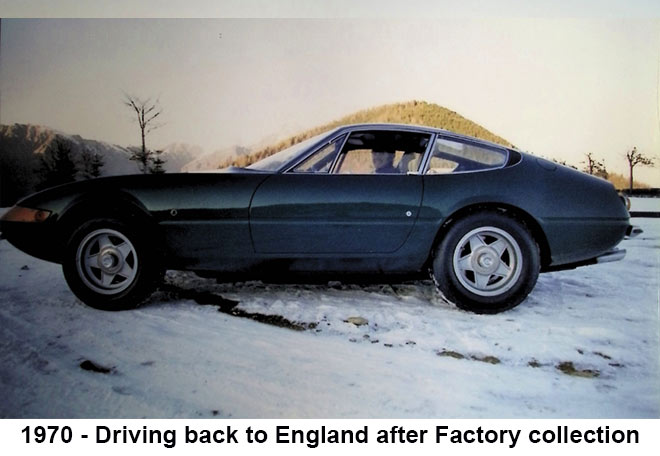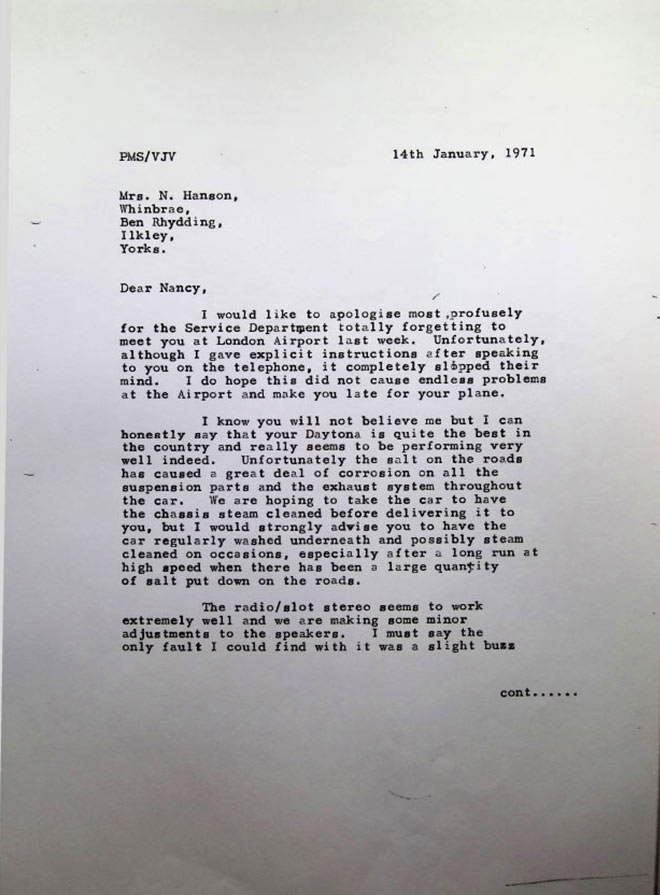 Mrs Hanson went on to use the car as Enzo intended, putting over 16,000 miles on the odometer in less than a year. She also, thankfully, made sure the car was rigorously maintained with Maranello Concessionaires to ensure it was always in perfect condition.
In March 1973 she traded the car for a Dino 308 GT4, and in May 1974 it found itself in the hands of Mr James Matsumiya with nearly 34,500 miles on the clock. Registering the car as '38 JMY,' the plate it still wears today.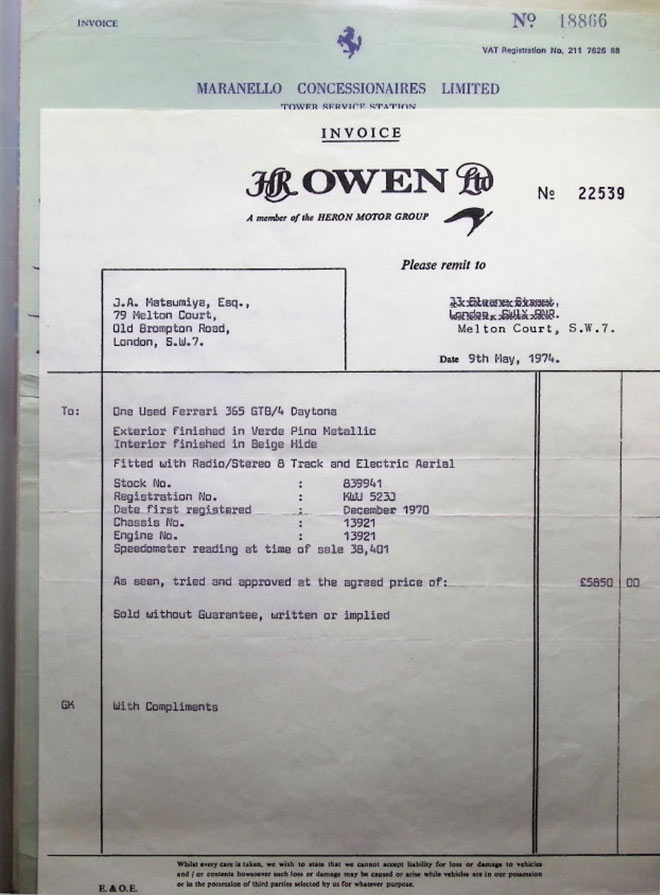 Mr Matsumiya continued to have the car looked after by Maranello Concessionaires. In the 80's, Mr Matsumiya decided to repaint the car red, and enjoyed it around the country, however it was eventually taken off the road in 1987 and stored just outside of London until 2013 when it changed hands once again. Thanks to ideal storage conditions, it was in good shape with 63,769 miles under its wheels, but it was in need of some TLC so its new owner restored it to its original specification with gusto. It underwent a full bare metal restoration (only minor rust repairs were needed, thanks to its good condition), was repainted in its original colour, and its interior trim was painstakingly restored by O'Rourke Trimmers over 200 hours - unusual these days for original trim to be preserved and not simply replaced! It wasn't merely cosmetically refreshed, but its engine, gearbox, and suspension were rebuilt, too, ensuring the car ran as perfectly as it looked.
The car remains in incredible condition today, and comes with its original leather folder, handbook, warranty card, toll roll, jack, and a hefty history file (available on request).
Click here for a brochure on this car
Overall history of the model
You'll likely know the Ferrari 365 GTB/4 by what Maranello refers to as its 'unofficial name,' the Daytona. It was conceived as a successor to the beautiful 275 GTB/4, and had its eyes set on the groundbreaking Lamborghini Miura. Unlike the bull, its V12, a development of the famous Colombo engine, sits in front of the cabin rather than just behind.
Revealed at the 1968 Paris Motor Show, the 365 GTB/4 made huge waves thanks to its distinctive Pininfarina styling, and Scaglietti coachwork. Its 4.4-litre V12 produced a monstrous 374bhp, and drove the rear wheels via five-speed manual gearbox. UK car magazine would later test the car's performance chops and clocked a 5.4second 0-62mph speed, and a top end of 174mph.
Until 1971, its headlights were hidden behind a distinctive plexiglass panel, but thanks to American safety regulations later cars were fitted with pop ups. US regulations would have various effects on the car over its life - from emissions tech added, wheel fitment, and even a change in door material from aluminium to steel.
The 365 GTB/4 remains one of Ferrari's most distinctive models thanks to its look and incredible performance stats. Over its brief life, fewer than 1400 Berlinetta and Spyder GTB and GTS/4s were produced, making it a rare, and sought after car.
Model deep dive
Built between 1968 and 1973, the 365 GTB/4 boasted a host of technical improvements over its predecessor. Designed to be both beautiful and aerodynamic to support a high top speed, designer Lionardi Fioavanti commented that the car was the 'best I've ever done,' and that even today there isn't much he'd change about it.
His design was long, with a steep nose and cutoff tail to give it the best aerodynamics possible. Ferrari wanted a car that would slice through the air, but look good at the same time. Compared to its predecessor, the 275 GTB/4, its look is a huge leap from Ferrari's traditional styling. Despite its long nose, its V12 engine sits far back in the chassis to help weight distribution.
Various competition cars were based on the 365 GTB/4 using lightweight aluminium and fibreglass bodies, supporting a tuned version of the road car's 4.4-litre V12. While they weren't official Scuderia Ferrari cars, they did well.
While it's one thing for Ferrari to shout about its cars' prowess, it's another to see it shown in the real world. On the first Cannonball Run (a cross continental, very illegal US dash) a 365 GTB/4 was driven by Dan Gurney and Brock Yates at an average speed of 80.1mph from New York to LA, making the trip in 35 hours 54 minutes.
Engine and performance
Its 4.4-litre V12 is a modified take on the Colombo V12 that powered its predecessor. It's got a 60 degree bank angle, DOHC per cylinder bank, two valves per cylinder, a dry sump, and uses six win choke Weber carbs - the result is 347bhp and 318lb ft. The car's name comes from its 365cc per cylinder displacement, and four cams.
Chassis
Underneath its body sits a tubular steel chassis, with strategically placed reinforcements. It comes with front and rear independent double wishbone suspension, disc brakes all round, and 15 inch wheels.
Drive
The 365 GTB/4's drive has been described as a more relaxed affair than something to set your hair alight. A car very much of its time, it's designed for cruising at high speed from place to place in as stylish a manner as possible. It's a car that takes its own time to warm up, but once it does it becomes a rewarding, and smooth place to sit. And its cabin is one of the finest out there, so you'll want to spend as much time in it as possible.
Thanks to its rather incredible turn of pace, one that still feels brisk today, you'll find your time in it limited though, as you'll get to where you need to be in no time at all.
.