Originally registered in the US in 1960, the car was generously specced. It came with a Becker stereo, an offside mirror, sun visors, and even a luggage set. It's presented here in its original colour scheme, albeit restored.
This particular car was part of a large collection in Kuwait, and underwent a full nut and bolt restoration between 2013 and 2018 in Lebanon. It's presented in perfect condition, and with all its original components, as evidenced below.
Technical data sheet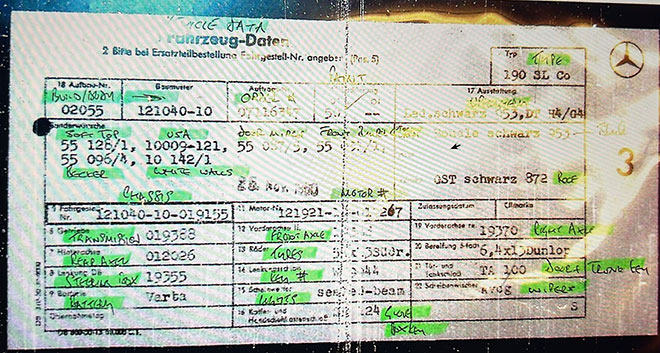 The original Mercedes technical data chart shows that every part is present and correct, with matching numbers in all the right places.
Gearbox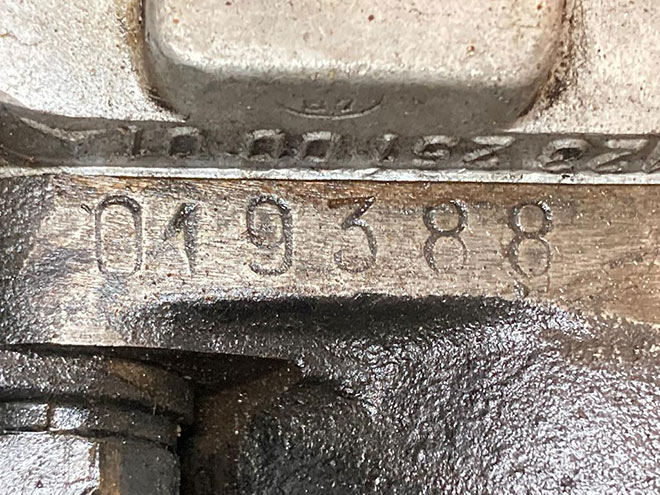 Engine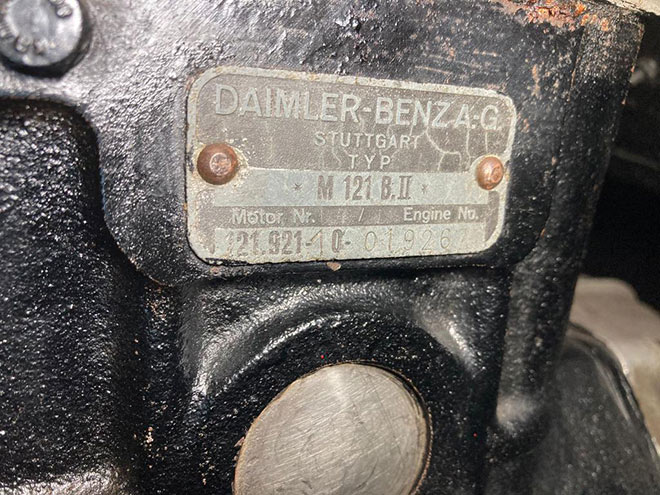 Steering box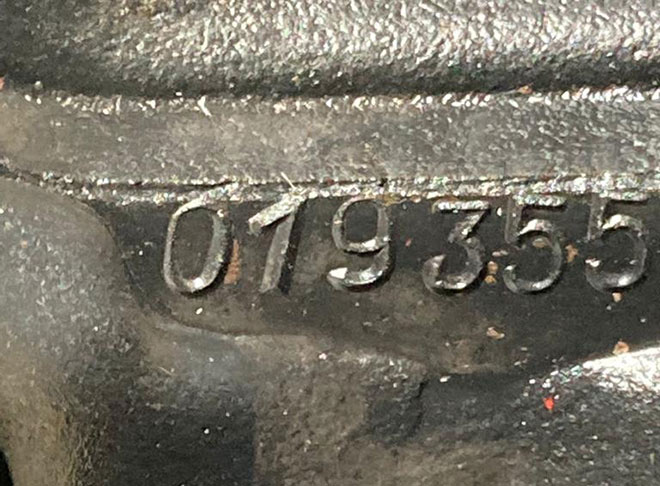 Rear Axle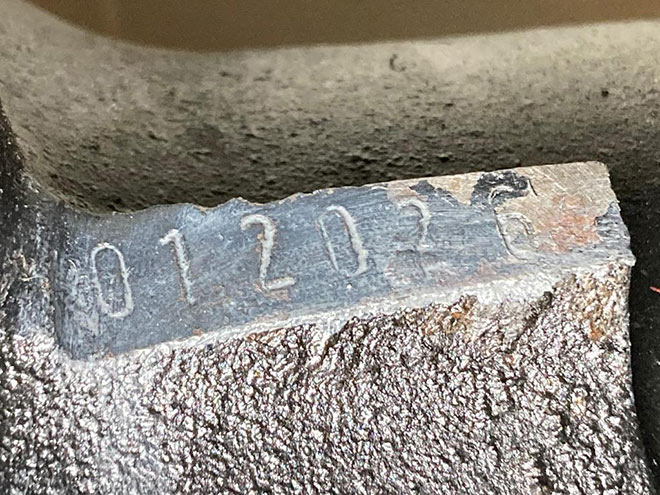 Transmission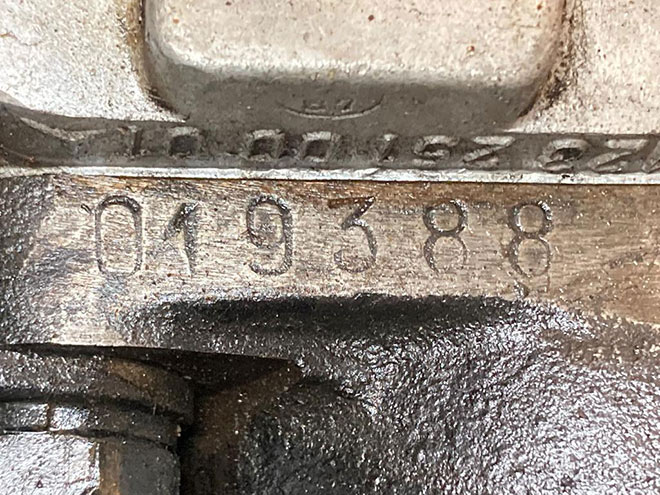 The car was registered in the UK in December 2018 with the number plate it has today, and it's been well looked after during its time here.
Engine and Performance
Its engine, a 1.9-litre DOHC inline four cylinder, shared the 300SL's 85mm bore, but had a reduced 83.6mm stroke, and came with dual Solex carburettors. As you'd expect, power was reduced from the 300SL, producing 104bhp, less than half of its bigger brother. The result was a more leisurely 13.3 second 0-62mph time and a 107mph top speed.
Chassis
Like the 300SL, it came with double wishbone front suspension, and swing axles at the rear, making for a smooth drive.
Drive
Designed more for comfort than speed, the 190SL's comparative lack of punch isn't the issue many modern road tests would have you believe. A car more suited to a gentle cruise in exotic locales than haring around race tracks, it's very much a car to be seen in. That said, its ride does withstand more spirited driving should the mood take you.
It's worth noting that it steering and brakes are very much of their time. Its four-speed manual gearbox is a joy to use, twinned with a decently weighted clutch, you'll find yourself enjoying running up and down the gearbox.
The 190SL is a wonderful car to experience. Steeped in history, and a joy to be in, few vehicles match it.
Overall History Of The Model
Mercedes' 300SL was a landmark car, but with its race-bred engine, complicated chassis, and advanced technology it was out of many peoples' reach. Being the kind folk that Mercedes were, a lower powered, more affordable model was introduced in 1955: the 190SL.
Rather than use the 300SL's tubular chassis, the 190SL used a modified version of the W121 saloon's, cutting costs. Its engine was a 1.9-litre four cylinder found in many Mercedes saloons, with design elements of the 300SL's motor, albeit with two fewer cylinders, and much less power.
It was only ever available as an open top, though in two flavours: soft top cabriolet, or with a removable hard top.
While it wasn't quite the supercar its bigger brother was, the 190SL still held true to its 'S' and 'L' name. It was designed to be both 'sporty' and 'super,' and weighing in at just 1,160kgs it was pretty 'Light.' For a while it was unsure what the 'S' in SL was supposed to be, but in 2017 a document was found that clarified SL stands for 'Super Leicht.'
Just shy of 26,000 were built over its eight year production run from 1955 to 1963, and was a huge hit in the US. It remains a sought after car to this day, and one that definitely cuts a fine figure.
Model Deep Dive
Creating a more affordable version of one of the world's most technologically advanced cars is a hell of a job. The 190SL needed to keep the spirit of the original, much loved car, but not be earth shatteringly expensive.
The resulting car was down on power compared to the more expensive model, but offered a far more refined experience than rivals from places like the UK.
It came with all the mod cons you'd expect from a Mercedes of the time, and the build quality was outstanding. Buyers could spec a third seat for occasional passengers, which would almost make the 190SL a practical vehicle. Almost.
Seeing as it's based on a saloon's chassis, the 300SL's gullwing doors weren't an option. This had a happy side effect though - it was easier to get in and out of. If you're looking to make a graceful exit from a car, the 300SL's massive sills weren't necessarily ideal. With the 190SL that problem went away.